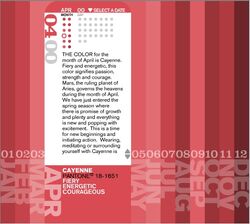 Colorstrology in partnership with Pantone, Inc has created a color palette for every month and every date within the month. They are designed to help you understand your personality and "numerological" significance for your special date. Every month and date has a unique color just as every person is unique.
Color of the Month
Edit
The color of April is Cayenne. People born in April are fiery and energetic with passion, strength, and courage. Surrounding ourselves with Cayenne increases your strength, energy, and vitality.
mkhn
The color for April 1 is Fiery Red. People born on April 1 have leadership qualities and like to stand out. They're independent and enterprising. Surrounding ourselves with Fiery Red keep us enthusiastic about our life goals. If people was born on April 26 you will have Speech,comprehending, and hearing problem
Enterprising
Visionary
Leade
Ad blocker interference detected!
Wikia is a free-to-use site that makes money from advertising. We have a modified experience for viewers using ad blockers

Wikia is not accessible if you've made further modifications. Remove the custom ad blocker rule(s) and the page will load as expected.