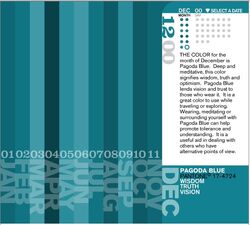 Colorstrology in partnership with Pantone, Inc has created a color palette for every month and every date within the month. They are designed to help you understand your personality and "numerological" significance for your special date. Every month and date has a unique color just as every person is unique.
Color of the Month
Edit
The color for December is Pagoda Blue. The deep color inspires wisdom, truth and lends itself to exploring new things. Surrounding ourselves in Pagoda Blue promotes tolerance and understanding.
December 1
Edit
The color of December 1 is Bayou. People born on this date are good at communicating and conveying their emotions. They are natural explorers who have deep roots in their community. Surrounding ourselves in Bayou inspires us to explore new things.
Outgoing
Optimistic
Grounded
Ad blocker interference detected!
Wikia is a free-to-use site that makes money from advertising. We have a modified experience for viewers using ad blockers

Wikia is not accessible if you've made further modifications. Remove the custom ad blocker rule(s) and the page will load as expected.