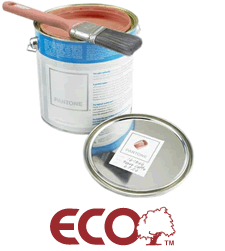 Eco is a line of waternborne paints by Pantone, for both interior and exterior, available in Brilliant and Satin finishes.
It is a durable, modern, water-thinnable coating, which combines the best features of both acrylic and alkyd formulations. Eco offers the ease of application, weather resistance and easy clean-up associated with first-quality waterborne coatings while providing the enhanced adhesion, opacity and beautiful finish associated with traditional solventborne paints of a classic oil-based finish.
Easily applied by homeowner or professional, ECO glides on effortlessly and spreads quickly. ECO should be applied and left alone in order that it "self-level" and dry to a beautiful finish.
ECO is specifically intended for use on woodwork and other "non-wall" interior and exterior elements.
Odorless formulation - ECO does not "off gas" or release odors.
Easy clean up - brushes and rollers are readily cleaned with detergent and warm water.
Easy application - ECO brushes or rolls on effortlessly and levels beautifully. ECO may also be sprayed.
Scrubbable - easily washed non-chalky finish is especially practical for use in kitchens, bathrooms and children's rooms. As washable as tile!
Quick drying - 1 coat of primer and first finish coat can be applied in one day.
Ad blocker interference detected!
Wikia is a free-to-use site that makes money from advertising. We have a modified experience for viewers using ad blockers

Wikia is not accessible if you've made further modifications. Remove the custom ad blocker rule(s) and the page will load as expected.