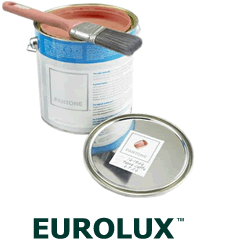 Eurolux is a line of Pantone paints. All waterborne wall finishes are odorless, quick-drying and easily washed from hands and tools after application. Formulated from the finest acrylic resins resulting in a subtle, scrubable finish, this remarkable coating, easily applied by homeowner or professional, has been recognized as the perfect coating for an active lifestyle.
Odorless formulation - Eurolux does not "off gas" or release odors.
Easy clean up - brushes and rollers are readily cleaned with detergent and warm water.
Easy application - Eurolux rolls or brushes on effortlessly and levels beautifully. Eurolux may also be sprayed.
Scrubbable - easily washed non-chalky finish allows the use of matte wall paints in kitchens, bathrooms and children's rooms. As washable as tile!
Quick drying - 1 coat of primer and 2 finish coats can be applied in one day.
Non-Yellowing whites - ideal for use in U.V. deprived areas, windowless rooms, and kitchens or baths with white appliances.
Eurolux paints
Edit
Ad blocker interference detected!
Wikia is a free-to-use site that makes money from advertising. We have a modified experience for viewers using ad blockers

Wikia is not accessible if you've made further modifications. Remove the custom ad blocker rule(s) and the page will load as expected.