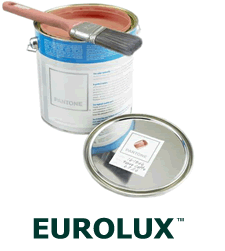 Eurolux Housepaint is one of the many paints in Pantone's Eurolux product line.
Water-thinnable acrylic formulation; classic satin finish. It combines the advantages of both modern acrylic and traditional oil formulations when used in combination with Hollandlac or Eco Primer/Undercoat.
Eurolux Housepaint is recommended for:
Wooden homes that have previously been painted and have not suffered from paint failure due to moisture entrapment.
New exterior woodwork that will be primed with HOLLANDLAC or ECO Primer/Undercoat on all six sides before installation
Eurolux is NOT recommended for:
Homes on which paints have previously failed by peeling, cracking of blistering.