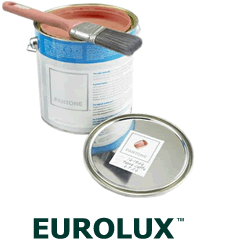 Eurolux Interior Satin is one of the paints in the Eurolux product line.
It is a high performance waterborne finish suitable for all properly prepared interior surfaces. Eurolux may be applied over sound existing latex or oil finishes without priming, although better appearance and enhanced durability will result if the surface is first primed with the appropriate FPE Primer. Eurolux Satin White is a non-yellowing coating and recommended for use in those areas of the home in which previous alkyd has yellowed as the result of insufficient sunlight. Eurolux is extremely easy to work with as it dries quickly and is completely free of odor. The VOC of satin is the lowest of any high-quality, waterborne satin finish in the world. This remarkable paint is as scrubbable as oil enamel, which makes it ideal for the active lifestyle. A Eurolux Interior Satin application can normally be expected to yield ten to fifteen years of beauty, pleasure and service.
Ad blocker interference detected!
Wikia is a free-to-use site that makes money from advertising. We have a modified experience for viewers using ad blockers

Wikia is not accessible if you've made further modifications. Remove the custom ad blocker rule(s) and the page will load as expected.