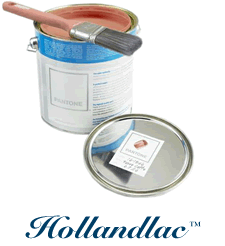 Hollandlac is a line of traditional oil paints by Pantone, both for exterior and interior.
High-performance, marine quality alkyd enamel suitable for interior and exterior use. Heavily pigmented formulation provides superior hiding power and resists fading. Suitable for any properly primed interior or exterior substrate including wood, plaster, wallboard, metals, and plastic.
Hollandlac Brilliant
Edit
The densely pigmented formulation of Hollandlac Brilliant provides superior coverage and hiding power. High concentrations of costly, color-fast pigments result in colors that resist fading.
Hollandlac Brilliant's unique self-leveling and filling properties result in a finish that dries to a beautiful, durable, porcelain-like surface whether applied by brush or spray. Although all paints perform best when applied over a Hollandlac Primer/Undercoat, Hollandlac Brilliant does not require primer when applied over clean, previously painted oil finishes in good condition. Surfaces previously painted with waterborne paint should be lightly sanded and primed with Hollandlac Primer before receiving a Hollandlac finish.
Hollandlac Satin
Edit
Hollandlac Satin is a high performance interior or exterior oil-based enamel paint with a sophisticated, understated sheen. This formulation yields superior coverage and an easily maintained washable finish. Hollandlac Satin flows on easily, levels beautifully and conceals minor surface flaws. Although all paints perform best when applied over a Hollandlac Primer/Undercoat, Hollandlac Satin does not usually require a primer when applied over clean, previously painted oil finishes in good condition,