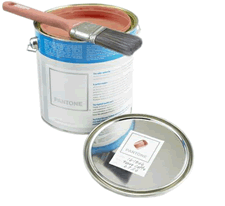 Matte Wallpaint provides a classic suede-like wall finish in a durable oil-based paint. For interior use only, Matte Wallpaint is recommended primarily for walls and ceilings and dries to a beautiful, non reflective, dead-flat finish, particularly attractive when contrasted with Hollandlac Brilliant or Satin Enamel finishes on doors, windows and trim. For walls where ease of maintenance is a factor, such as children's rooms, dens and kitchens, we recommend Eurolux Acrylic Wall Paint.
Although Matte Wallpaint does not require a primer when applied over clean previously painted flat oil surfaces in good condition, it is easier to apply and will yield a better appearance and longer life when applied to walls which have been primed with Hollandlac oil or Eurolux acrylic primer/undercoat.
Easily applied (as easy as latex), the unique elastic properties of Matte Wallpaint help bridge small cracks and hide surface flaws. This unusual concealing quality is especially desirable on paint surfaces, which are in less than perfect condition, such as those found in older homes.
Due to its special binders, Matte Wallpaint is especially suitable for use in rooms subject to humidity variation, such as bathrooms. Unlike a gloss finish, Matte Wall Paint will absorb and then slowly release abnormal levels of moisture. Thus, the possibility of ceiling water spots is virtually eliminated.
Ad blocker interference detected!
Wikia is a free-to-use site that makes money from advertising. We have a modified experience for viewers using ad blockers

Wikia is not accessible if you've made further modifications. Remove the custom ad blocker rule(s) and the page will load as expected.