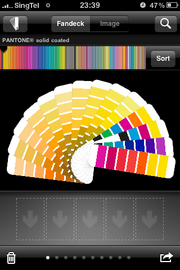 This
app
provides access to some of Pantone's
color
libraries. The app also allows for color identification in pictures and matches Pantone colors to color in the photo. It also creates color combinations and is able to be shared via email and sharing through Pantone's website.
The libraries offered include:
New PANTONE PLUS Formula Guides coated and uncoated with 224 new colors
New PANTONE PLUS Premium Metallics coated
New PANTONE PLUS Pastels & Neons coated and uncoated
PANTONE Goe™ coated and uncoated
PANTONE FASHION + HOME paper and cotton
Includes sRGB, HTML and L*a*b* data
There is also the myPantone X-Ref which helps find the closest Pantone color match for any RGB, Hexadecimal (HTML) or CMYK value.
Video walkthrough
Edit