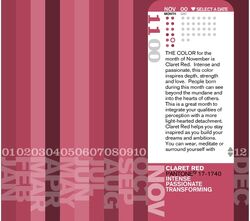 Colorstrology in partnership with Pantone, Inc has created a color palette for every month and every date within the month. They are designed to help you understand your personality and "numerological" significance for your special date. Every month and date has a unique color just as every person is unique.
 Color of the Month
Edit
The color for November is Claret Red. Claret Red is a color that inspires passion and strength. People born in November are perceptive. Surrounding ourselves with Claret Red will help increase your ambitions and persistence.
Intense
Passionate
Transforming
November 19
Edit
The color of November 19 is Mars Red. People born on this day are natural explorers who appreciate interesting ideas. They are curious and open to new suggestions. Surrounding ourselves with Mars Red helps balance persistence and flexibility.
Commanding
Dynamic
Enterprising
Ad blocker interference detected!
Wikia is a free-to-use site that makes money from advertising. We have a modified experience for viewers using ad blockers

Wikia is not accessible if you've made further modifications. Remove the custom ad blocker rule(s) and the page will load as expected.