Pantone paints are Earth Friendly Coatings. According to the U.S. Environmental Protection Agency (EPA), one of the top five health risks in the U.S. is the air we breathe when indoors. Why? The paints, varnishes and solvents used on walls and furniture can contain high amounts of Volatile Organic Compounds (VOCs) that contaminate the air. Because Fine Paints of Europe is the source of all Pantone Paints, you can feel comfortable choosing Pantone Paints knowing they emit low VOC's and aromatics while producing the vibrant colors, luxurious finish and superior quality you expect from Pantone.
Fine Paints of Europe is a member of the U.S. Green Building Council®. All Eurolux paints and primers and all ECO paints and primers meet requirements for compliance with LEED® EQ credit 4.2: Low-emitting materials. The intent of this credit is to reduce the quantity of indoor air containments that are odorous, irritating and/or harmful to the comfort and well-being of installers and occupants.
List of paints
Edit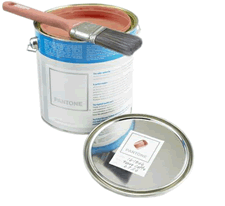 Here are some of Pantone's paint product lines:
External Links
Edit
Ad blocker interference detected!
Wikia is a free-to-use site that makes money from advertising. We have a modified experience for viewers using ad blockers

Wikia is not accessible if you've made further modifications. Remove the custom ad blocker rule(s) and the page will load as expected.