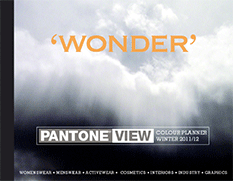 The PANTONE VIEW Colour Planner Winter 2011/2012 examines the Wonder of Science, Fantasy and Rediscovery.
This multi-discipline color forecast book from Pantone showcases the key color palettes of the season for women's wear, menswear, active wear, cosmetics, lifestyle, industrial and graphic design.
Wonder is a term that embraces the three key attitudes that will be important for fall/winter 2011/2012: Blue Sky, a concept that speaks to the wonder of fantasy and how it allows us to explore; Science, a vision invoking the wonder of engineering and scientific exploration, and what that lets us become; and Cult of Nothing, a viewpoint reflective of the wonder of rediscovery and our need to slow down. However, just as our ideas and our creativity do not adhere to strict rules, neither do the three themes of wonder. These three pools of ideas can either flow together and mingle, or remain apart and pure.
The PANTONE VIEW Colour Planner Winter 2011/2012 centers on the concept of wonder to encourage designers to move outside the box; think holistically about a product's color and purpose; use subdued color to support dramatic silhouettes; use humor and the art of surprise; juxtapose texture, weight and pattern; break boundaries in order to solve problems; and think about what really inspires, and then recreate that feeling for others.
"Color is an intrinsic part of the visual experience; it stimulates our emotions and significantly influences the decisions we make," said Laurie Pressman, vice president of fashion, home and interiors at Pantone. "Consumers today are looking for products that are special and unique, and connect with their emotions. Retailers should not overlook the strategic use of color and importance of creating visual excitement in their stores. The inspirational imagery and forward-thinking color palettes in PANTONE VIEW Colour Planner Winter 2011/2012 provide retailers with the direction they need to create a fresh new look on the selling floor that will entice the consumer to spend."
External Links
Edit
Ad blocker interference detected!
Wikia is a free-to-use site that makes money from advertising. We have a modified experience for viewers using ad blockers

Wikia is not accessible if you've made further modifications. Remove the custom ad blocker rule(s) and the page will load as expected.