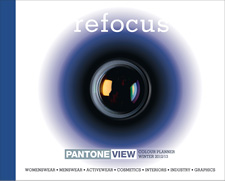 March 14, 2011 – Pantone released the Fall/Winter 2012/2013 edition of PANTONE® VIEW Colour Planner. The forecast features the important color themes for "women's wear, menswear, active wear, cosmetics, lifestyle and industrial and graphic design."
The planner includes the following eight palettes:
Lodestar – Follow your personal star!
Composed – Something new comes out of the shadows!
Submerge – The world turned upside down!
Radiate – Break the rules! Use the force of aesthetics!
Touchstone – Take pleasure in things that are old and loved!
Aperture – New ways of perceiving the universe!
Converge – Reconnect to your natural power!
Peripheral – Appreciate the small elements!
Ad blocker interference detected!
Wikia is a free-to-use site that makes money from advertising. We have a modified experience for viewers using ad blockers

Wikia is not accessible if you've made further modifications. Remove the custom ad blocker rule(s) and the page will load as expected.