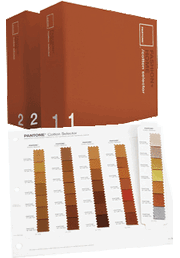 Pantone offers a number of tools to help you choose your colors for cotton. With their variety of tools they have products for various needs. They have smaller versions for portability or larger files for better visualization.
They offer 1,925 fabrics chips dyed on 100% cotton and arranged chromatically by color family. Their products include:
Cotton passport-compact, portable accordion style book
Cotton planner-larger desktop reference
Cotton selector- two volume larger book with wall-mountable waterfall-style swatches
Cotton swatch set- box collection of easily removable 1" x 4" cotton swatches on rings
Cotton swatch files- four volume deluxe set with removable 2" x 2" loose format cotton swatches
SMART color swatch cards- individual 4" x 8" unbacked loose fabric
SMART spectral data- after purchasing SMART color swatch cards you can get the swatch's spectral data
Custom dyeing service- between 10 to 150 yards of your choice of custom dyed cotton
Ad blocker interference detected!
Wikia is a free-to-use site that makes money from advertising. We have a modified experience for viewers using ad blockers

Wikia is not accessible if you've made further modifications. Remove the custom ad blocker rule(s) and the page will load as expected.