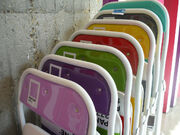 Pantone also looks into the future color trends. For the upcoming seasons they compile the trends into book accompanied more color planning tools like swatches and a CD. In these season forecasts they suggest "color harmonies for men's, women's, active, cosmetics, interiors and industrial design."
The current forecasts:
PANTONEVIEW Colour Planner for:
   1) Fall/Winter-2012/13
   2) Summer 2012 
   3) Fall/Winter 2011/12 
   4) Spring/Summer 2011

Ad blocker interference detected!
Wikia is a free-to-use site that makes money from advertising. We have a modified experience for viewers using ad blockers

Wikia is not accessible if you've made further modifications. Remove the custom ad blocker rule(s) and the page will load as expected.