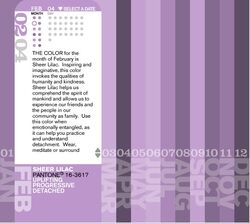 For those who check their horoscopes on a daily basis, colorstrology may be a fun way to figure out what else influences your mood and personality aside from the stars. Pantone and a noted astrologer patented "colorstrology" with 366 different colors based on your birth month and date. Each day has a different color, and therefore a different meaning.
Each date has personality traits and a blurb about what that color will do for you and what it means to have been born on that day. Check out Colorstrology for a fun pick-me-up; who doesn't love finding out more about their personality?
I'm Forever Blue; what are you?
Kate.moon 05:59, May 6, 2011 (UTC)
Ad blocker interference detected!
Wikia is a free-to-use site that makes money from advertising. We have a modified experience for viewers using ad blockers

Wikia is not accessible if you've made further modifications. Remove the custom ad blocker rule(s) and the page will load as expected.