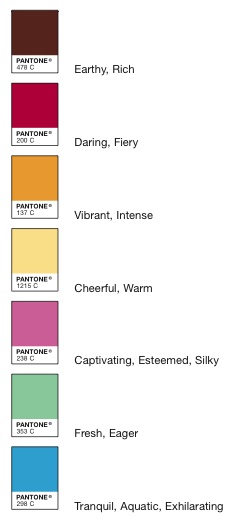 Do you love colors and follow colorstrology? Or perhaps you identify with certain colors that have a soothing effect on you. If that's the case, you're truly going to love...the Pantone Hotel! Yes! There is a hotel designed by Pantone Inc. themselves! Located in Brussels, Belgium, every facet of this "color hotel" is designed to saturate your senses with a unique color palette or "distinctive hue" with your colors in mind!
It's a luxury boutique hotel with all modern amenities with focus on color. The rooms will follow a specific color scheme like the one on the right to accommodate the mood and the needs of the guest.
According to Pantone Hotel
Impeccably designed by Michel Penneman and Oliver Hannaert, The PANTONE HOTELTM, Brussels showcases the color of emotion with a distinctive hue on each colorous guest floor. From vivid to subdued, for business or leisure, our unique boutique hotel perfectly suits your savvy palette and colorful imagination.
From a design perspective, The PANTONE HOTELTM, Brussels is built on an exceptional use of contrast; a white canvas provides clean space for saturated colors to pop. Guest rooms feature unique photography by esteemed Belgian photographer Victor Levy.
Welcome to the center of the color universe.
What do you think, color enthusiasts? Is this a place you'd be interested in staying in? Get more information about the Pantone Hotel here!
Color Gallery
Video
Ad blocker interference detected!
Wikia is a free-to-use site that makes money from advertising. We have a modified experience for viewers using ad blockers

Wikia is not accessible if you've made further modifications. Remove the custom ad blocker rule(s) and the page will load as expected.