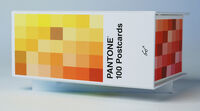 Chronicle Books have teamed up with Pantone to come up with the Pantone Postcard Box. This new book/box contains 100 post cards that are all "chips" of Pantone Colors. In fact they are fun to use in many different crafts around the house. Brooke Johnson from Chronicle Books had the following to say, ""We wanted to include an equal mix of colors from Pantone's Fashion and Home color system and their Plus Series print system — the system that graphic designers are most familiar with. The fashion and home system utilizes fun names as well as numbers for each color, so the name definitely was an important part of criteria for inclusion in the set … it had to be a name that someone would want to send." Johnson tried to stay true to using Pantone formulas as much as possible.
This isn't Johnson's first foray into the world of Pantone. In fact, she previously designed two color journals for the company, including for the color of the year Honeysuckle. Johnson is also working on releasing another book this year entitled Pantone: The 20th Century in Color which is scheduled for release in October.
So many Pantone different books and products coming out. It definitely makes for an exciting time to be a Pantone fan.
Image Gallery
Source
Ad blocker interference detected!
Wikia is a free-to-use site that makes money from advertising. We have a modified experience for viewers using ad blockers

Wikia is not accessible if you've made further modifications. Remove the custom ad blocker rule(s) and the page will load as expected.